😍 Featured Partner Fridays: Jeremy VonFlatern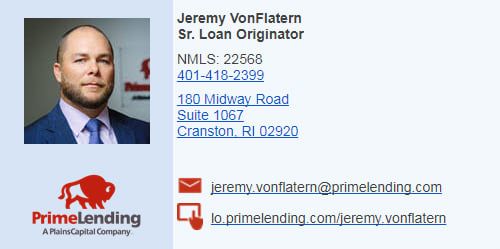 What prompted you to get into mortgage lending?
I originally attended Rhode Island College with the intention of obtaining a degree in Mathematics so that I can go on to become a Math Teacher at the secondary education level. During my time at college I had took an interest in Finance and that interest became my focus. When I left school, given the current state of the education field, I decided that was not going to be the avenue I wanted to pursue. While I was attending school, I worked in the restaurant industry in order to help with finances and since I was not sure what direction my career was headed at the time, I decided to go into the restaurant management field. This was a great experience for me as it helped shape my appreciation for hard work, problem solving and customer satisfaction. Through my travels, I met a man who owned a mortgage brokerage firm and after some discovery asked if I would be interested in a career change. From the day I started in this industry, I realized this is what I was meant to do. This business serves both my love of finance and the ability to teach home owners about the new adventure they are about to embark on.
How long have you been in the industry?
Since April 2004
What is the biggest piece of advice you would give today's buyer as they prepare for the mortgage process?
One of the initial discussions I have with a home owner is about their budget. I am always more interested in having a client who is aware of their current financial situation as this will translate into a more informed buyer. A buyer who is comfortable where they are financially and, more importantly, where they will be after they purchase this new property is a buyer who will be able to shop for a home with more confidence.
What is most rewarding and what is most challenging about today's market?
The most rewarding part of today's market is being able to easily navigate a client through the new rules and regulations of today's mortgage industry so that they don't feel like it is a cumbersome task. The most challenging part of today's market is the accessibility to information online. The reason this is challenging is because there is an abundance of disinformation out there, resulting in misguided expectations.
What are your hobbies and passions outside of work?
First and foremost; I am a family man. I love spending my time off with my wife, 2 boys and soon to be (April 2018) daughter. I wrestled in High School and College so I try to give back to that community as much as possible. I am currently the Head Coach of the Warwick PAL youth wrestling program which has somewhere between 60-70 wrestlers every year with ages ranging from 4 to 13. I am an avid golfer and enjoy surfing if I can find time to get in the water.
---
☎️ Please feel free to reach out to Jeremy for all of your mortgage needs:
Jeremy J VonFlatern
Sr Loan Originator
PrimeLending, A Plains Capital Company
NMLS #22568
401.418.2399
[email protected]
Apply Now: https://lo.primelending.com/jeremy.vonflatern
Check out his awesome ⭐⭐⭐⭐⭐ reviews on Zillow!
Search for mortgage lenders on the largest online directory of licensed lenders. Read thou...
Jeremy J VonFlatern
Sr Loan Originator
PrimeLending, A Plains Capital Company
NMLS #22568
401.418.2399
[email protected]
Apply Now: https://lo.primelending.com/jeremy.vonflatern