R.I. Home Prices Continue to Rise in Third Quarter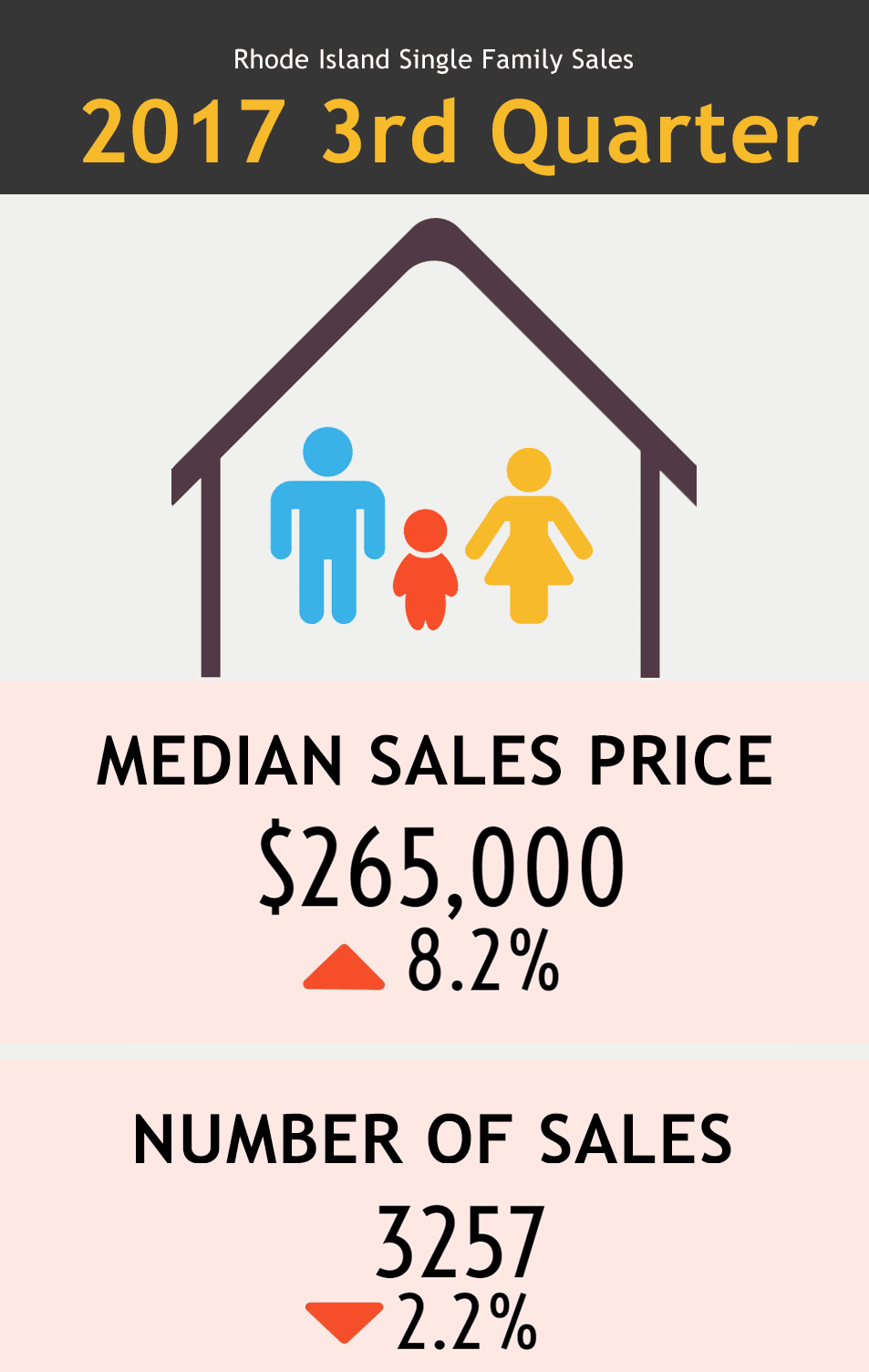 Warwick, RI, November 9, 2017…Third quarter home sales statistics released today by RI Realtors portray solid price gains from July through September compared to the same time last year. The median sales price of single-family homes increased 8.2 percent to $265,000, the highest quarterly median price in a decade. All but four towns saw an increase in the median sales price.
Rhode Island's hike in median price was accompanied by slightly moderating activity. From July through September, 3257 single-family homes sold in Rhode Island, down from 3331 the previous year. Only 15 of the 40 districts cited saw increased activity in the third quarter this year.
"Last year was an extremely busy year for Rhode Island's housing market and 2017 is continuing to see sustained momentum. So, while we're showing a year over year decrease in sales, it's important to realize that 2016 was a record-breaking year. Overall, the local housing market is still extremely strong despite a shortage of inventory that is holding sales back," said Joseph Luca, 2018 President of the Rhode Island Association of Realtors.
The condominium market was particularly robust in the third quarter, with the median sales price rising to $224,400 from $195,000 the previous year, a 15.1 percent gain. Sales activity also flourished with a 12.7 percent increase in closings.
The multifamily home market also fared well. A median sales price of $220,000 was 16.9 percent higher than the previous year's and closing activity grew by 9.2 percent.
"The impact of pending tax reform could have a substantial impact on the housing market next year, depending on whether or not changes to mortgage interest and property tax deductions are enacted. All property owners are strongly encouraged to call Senators Reed and Whitehouse as well as Congressmen Langevin or Ciccilline to tell them to protect middle-class homeowners," warned Luca. "Rising prices, along with high levels of student loan debt and tight credit conditions are already keeping homeownership levels low. We don't need anything else that could be detrimental to our housing market. Homeownership builds wealth and is a huge economic engine. We need to make sure that our representatives in Washington understand that we should be protecting incentives for owning a home, not eliminating them."
SOURCE:
Press Release: Joseph Luda, 2018 President
RHODE ISLAND ASSOCIATION OF REALTORS®, INC.
"The Voice of Real Estate in Rhode Island"
Serving Rhode Islanders Since 1948