The One Thing Every Homeowner Needs To Know About a Recession
A recession does not equal a housing crisis. That's the one thing that every homeowner today needs to know. Everywhere you look, experts are warning we could be heading toward a recession, and if true, an economic slowdown doesn't mean homes will lose value.
The National Bureau of Economic Research (NBER) defines a recession this way:
"A recession is a significant decline in economic activity spread across the economy, normally visible in production, employment, and other indicators. A recession begins when the economy reaches a peak of economic activity and ends when the economy reaches its trough. Between trough and peak, the economy is in an expansion."
To help show that home prices don't fall every time there's a recession, take a look at the historical data. There have been six recessions in this country over the past four decades. As the graph below shows, looking at the recessions going all the way back to the 1980s, home prices appreciated four times and depreciated only two times. So, historically, there's proof that when the economy slows down, it doesn't mean home values will fall or depreciate.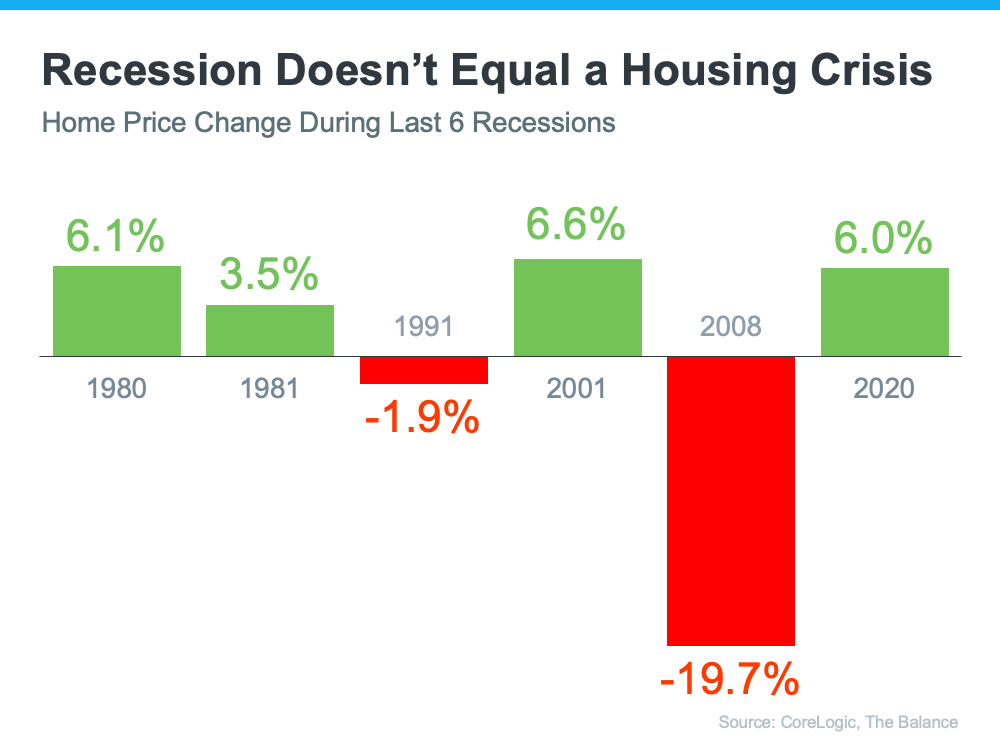 The first occasion on the graph when home values depreciated was in the early 1990s when home prices dropped by less than 2%. It happened again during the housing crisis in 2008 when home values declined by almost 20%. Most people vividly remember the housing crisis in 2008 and think if we were to fall into a recession we'd repeat what happened then. But this housing market isn't a bubble that's about to burst. The fundamentals are very different today than they were in 2008. So, we shouldn't assume we're heading down the same path.
Bottom Line
We're not in a recession in this country, but if one is coming, it doesn't mean homes will lose value. History proves a recession doesn't equal a housing crisis.
Tips for Selling First
If you need to sell your home before you can start looking for a new house, consider these tips:
Find Temporary Housing
You'll need somewhere to live once your house sells and you look for a new home, whether that's with family or friends, at a hotel, or an apartment or rental home. Give yourself at least two months to find accommodations that will suit your family's needs, and consider a backup plan just in case Plan A falls through.
Be Ready To Buy
Once your home sells, you'll want the process of finding a new home to go relatively quickly, especially if you have children in school or a baby on the way. So, get everything in order with the bank ahead of time, including mortgage pre-approval, your budget, and timeline. That way, when the time comes to make an offer to buy a home, you won't face any delays that could have been avoided and that have the potential to lead to your dream home getting scooped up by someone who is ready.
Advertise Your Sale as "Subject To Seller Finding Suitable Housing"
In this scenario, you would be marketing your home first and getting a buyer in place before starting the buying process. We've found this to be the best way to go for most sellers. There are plenty of buyers out there who are willing to work with you on your timeline. This way, when you're making offers on new homes... it's subject to your home closing but is more attractive because you already have a buyer in place.
Know What You're Looking For
Today's real estate market moves fast. So, it's important to know exactly what you're looking for in a new home. Start a list of must-haves, including location and school system, number of bedrooms, and any amenities you're looking for. Give the list to your Realtor so they can keep their eyes out for listings that are coming up, and once you accept an offer on your current home, you can get to work finding exactly what you're looking for.
It's no secret that the buy and sell process is tricky and stressful — especially in this real estate market! But we're here to help. Contact us today, and let's get started.
Click Here