Three Tips for First-Time Homebuyers
Buying your first home is a major decision and an exciting milestone. Even though it can feel daunting at times, it has the power to change your life for the better. If you're looking to purchase your first home, you may be wondering what's happening in the housing market today, how much you need to save, and where to start.
Here are three things that can help give you the information you need to confidently pursue your dream of homeownership.
1. Consider All Options When the Number of Homes for Sale Is Low
Today, there are far more buyers in the market than there are homes available for sale. When that happens, it's a good idea to do what you can to increase your pool of options. That could mean expanding your search to include additional housing types. For first-time buyers, considering condominiums (condos) and townhomes can be an excellent way to increase your choices. According to Bankrate:
"Townhomes often cost less than single-family homes of a similar size in the same location."
In another article, Bankrate also says:
"Buying a condo can be a great way to dive into homeownership without worrying about the upkeep that comes with single-family homes and townhouses."
Condos and townhomes are both great entryways into homeownership. When you buy either one, you can start building equity which increases your net worth and can fuel a future move.
2. Know Your Down Payment Could Be More Within Reach Than You Think
Saving for a down payment can feel like one of the biggest obstacles for homebuyers, but that doesn't have to be the case. As the National Association of Realtors (NAR) says:
"One of the biggest misconceptions among housing consumers is what the typical down payment is and what amount is needed to enter homeownership."
Data from NAR shows the median down payment hasn't been over 20% since 2005. The graph below breaks down the median down payment by age group for recent homebuyers according to the 2022 Home Buyers and Sellers Generational Trends Report from NAR (see graph below):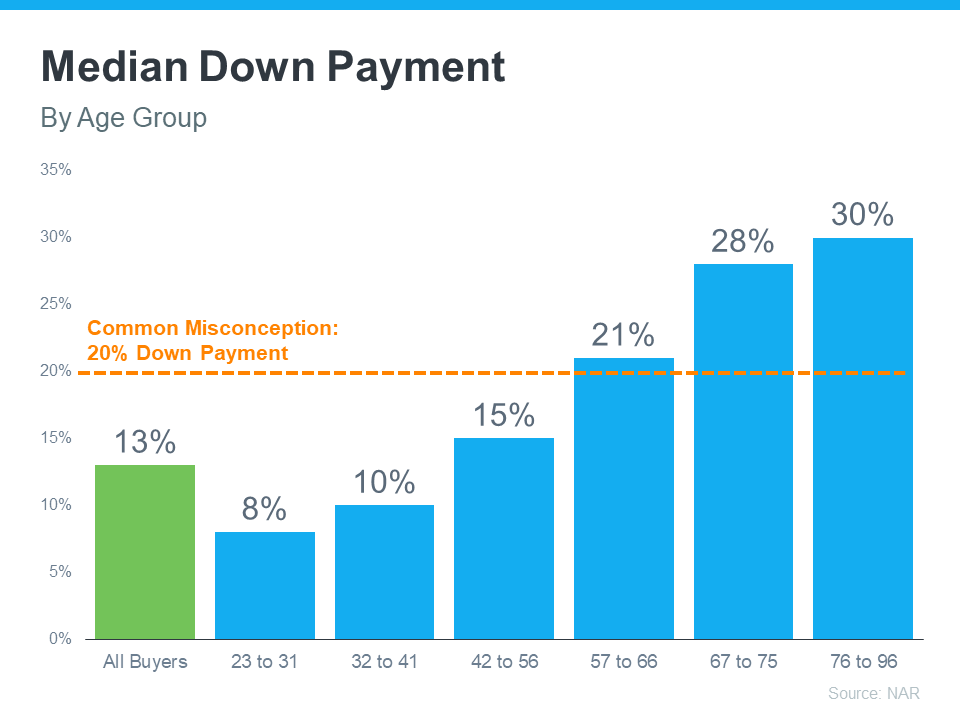 Based on the data above, the median down payment for all homebuyers is only 13%. That's well below the common misconception of 20%, and it's even lower for younger buyers. This could mean you may not need to save as much for a down payment as you initially thought.
There are also down payment assistance programs available for many buyers. Not to mention, some loan options require as little as 3.5% (or even 0%) down for buyers who qualify. While there are advantages to putting 20% down, especially in today's competitive market, know that you have options. To get more information on how much you may need to save and the help that's available, talk with a professional.
3. Work with a Trusted Real Estate Advisor Throughout the Process
Finally, no matter where you're at in your homeownership journey, the best way to make sure you're set up for success is to work with a real estate professional.
If you're just starting out, they can help you with the initial steps, like educating you on the process and connecting you with a trusted lender to get pre-approved. Once you're ready to begin your search, a real estate professional can help you understand your local market and search for available homes. And when it's time to make an offer, they'll be an expert advisor and negotiator to help your offer stand out above the rest.
Bottom Line
Knowledge is key to succeeding on your homebuying journey. Knowing market trends, what you need for a down payment, and what options you have as a buyer today can give you the confidence you need to buy a home. Let's connect so you have an expert on your side who can help you navigate the homebuying process.
Tips for Selling First
If you need to sell your home before you can start looking for a new house, consider these tips:
Find Temporary Housing
You'll need somewhere to live once your house sells and you look for a new home, whether that's with family or friends, at a hotel, or an apartment or rental home. Give yourself at least two months to find accommodations that will suit your family's needs, and consider a backup plan just in case Plan A falls through.
Be Ready To Buy
Once your home sells, you'll want the process of finding a new home to go relatively quickly, especially if you have children in school or a baby on the way. So, get everything in order with the bank ahead of time, including mortgage pre-approval, your budget, and timeline. That way, when the time comes to make an offer to buy a home, you won't face any delays that could have been avoided and that have the potential to lead to your dream home getting scooped up by someone who is ready.
Advertise Your Sale as "Subject To Seller Finding Suitable Housing"
In this scenario, you would be marketing your home first and getting a buyer in place before starting the buying process. We've found this to be the best way to go for most sellers. There are plenty of buyers out there who are willing to work with you on your timeline. This way, when you're making offers on new homes... it's subject to your home closing but is more attractive because you already have a buyer in place.
Know What You're Looking For
Today's real estate market moves fast. So, it's important to know exactly what you're looking for in a new home. Start a list of must-haves, including location and school system, number of bedrooms, and any amenities you're looking for. Give the list to your Realtor so they can keep their eyes out for listings that are coming up, and once you accept an offer on your current home, you can get to work finding exactly what you're looking for.
It's no secret that the buy and sell process is tricky and stressful — especially in this real estate market! But we're here to help. Contact us today, and let's get started.
Click Here